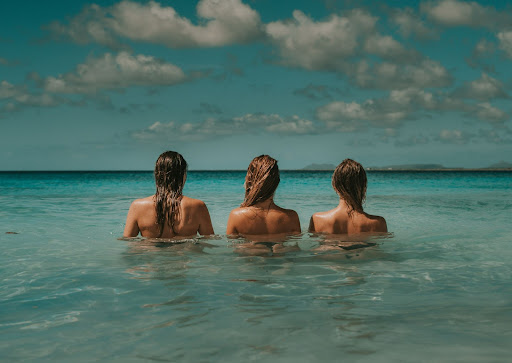 Looking for your next naturist holiday location and some of the places you've shortlisted don't allow you to relax as nature intended, then look no further as naturism in Playa Blanca is growing in popularity if you are looking for a naturist friendly holiday then Lanzarote is an ideal destination for getting naked and is a go to destination in particular naturism in Playa Blanca. Naturists have flocked to Lanzarote and Playa Blanca for many reasons such as the privacy of the many naturist beaches.
The weather is just perfect for naturism with its all year round sun. It's a sunbathers paradise, so go for that all over tan! In terms of naturist friendly accommodation at all our villas are naturist friendly for your private enjoyment and we can recommend naturist friendly in villa services like private chefs or party planners should you need them.
Here are some of the best naturist friendly beaches for naturism in Playa Blanca where you can get naked, tanned and swim as much as you want.
Naturism in Playa Blanca - Naturist Friendly Beaches
Playa Congrio
La Caleta del Congrio is one of the six beaches of Playa Papagayo. It is located in Los Ajaches Nature Park, which has a small entry fee of 3 euros. The beach offers a breathtaking view of the neighbouring island Fuerteventura, making it one of the most beautiful on the island. You can enjoy a relaxing day of beige sand in an uncrowded setting without worrying about being nude. A lot of parking space is available, along with showers and toilets on site. So, there will be no parking problems and its very naturism in Playa Blanca friendly.
Location: https://maps.app.goo.gl/o636zpAapStQNrdA7?g_st=ic
Playa Puerto Muelas
Located in Los Ajaches Nature Park, it is one of the most famous Papagayo beaches. Stunningly beautiful, the beach is surrounded by hills and has golden sand and black volcanic rocks. Although it is usually crowded in summer, it is the most peaceful beach for naturism in Playa Blanca. Formerly, the beach was an exclusively nudist area, but now anyone can enjoy a relaxing day here.
Location: https://maps.app.goo.gl/uLh8uTz7NsWLQ1KP7?g_st=ic
Playa Mujeres
At Playa Mujeres, there is a large area of sand, which shines golden yellow when the sun shines upon it. This is an ideal place for people who would like to enjoy a peaceful day away from the noises of the city. Bins are available on site and there are parking facilities as well. The waves are not strong; there are just a few small ones. Usually, this place is crowded in the morning as most people arrive as early as possible to spend the entire day there.
Location: https://maps.app.goo.gl/HGD38RAdToiLjcbM7?g_st=ic
Playa las Coloradas
Playa de las Coloradas is located near the castle of Las Coloradas, from which it gets its name. On the south coast of the island, it is near Papagayo beach. The beach is peaceful and intimate, making it a great place for naturists to spend the day so if naturism in Playa Blanca is important to your holiday this is another beach worth visiting. There are many restaurants and bars along a lovely promenade that offer traditional tapas and a variety of international cuisines.
Naturism in Playa Blanca - Holiday Villas Features
At Playa Blanca Holiday Villas we have designed our properties to be a wonderful place to enjoy the all your round sunshine and our villas a haven to relax and chill with lots to do with full privacy. For example the six bedroom stunning Villa Princesa is completely private so the property and glorious sunshine can be enjoyed as nature intended. For couples the two bedroom Villa Arabella is a perfect naturist friendly villa for relaxation in total privacy. Other amenities include:
Heated pools:
All our villas enjoy private heated pools, take a dip in the pool or sunbathe where it will feel cool and comfortable. There are also sun loungers to enjoy the warm day and get a full body tan. 
BBQ:
Three of our villas are suitable for you to experience a nude BBQ with a traditional Canarian stone BBQ in the private setting of our Villa. 
Pool Tables:
There is nothing better than playing pool with your friends. There is a full-sized pool table available  our larger villas for guests to use. 
Movies:
Enjoy Netflix and Youtube movies in our private living room, which is equipped with a smart television and a comfortable sofa, all in one place. 
Private Chef (naturist friendly):
With a Chef who is experienced in a Naturist-friendly environment, you can enjoy a private catering service in our Villas. Paul our guest favourite is will cater to all your in villa private dining needs whether that's a BBQ, fine dining dinner or a hearty breakfast all naturist friendly visit La Bocaina Catering 
Star Gazing from the roof terrace:
Take in the beautiful view from our private roof terrace while enjoying a nice evening drink under the stars.
Looking to rent your next Holiday Villa in Playa Blanca?
Check out our stunning range of boutique affordable villas to rent in Lanzarote. These owner direct holiday villas are all wonderfully located in Playa Blanca. Each beautifully designed for relaxation and entertaining. Your next holiday villa escape to glorious sunshine of Playa Blanca Lanzarote awaits you